We were asked to publish the Internet Marketing Lead Generation Infographic that's below by a digital marketing agency, Straight North. Lead generation is a huge topic in digital marketing; and it's one of the most important concepts to get your head around, ideally before going to an interview, so we gladly published it. Understanding where leads come from and how you, as a budding marketer, can go about generating leads will make you far more valuable to a potential employer.
Straight North told me that in the US they hire a lot of university graduates at their digital agency, and the one thing they've noticed is that most of the graduates are incredibly knowledgeable in their area of specialisation, but they generally lack understanding of, or interest in, the other aspects of marketing. This is an interesting point. To be a successful marketer it's vital to have an appreciation of all marketing channels and how they work together and impact one another, even if you do not specialise in them all.
Our experience, however, is a bit different. The graduates we hire (unless they've undertaken an internship or a gap year) typically haven't heard of lead generation, and usually need training in most digital marketing disciplines from the ground up. So with that in mind, we're going to start at the beginning and explain exactly what marketing lead generation is so that you can fully understand the infographic and use it in an interview, or in your first job. And then we'll go on to explain the marketing lead generation ecosystem and give you some examples of job types and why it's valuable to understand multiple channels.
What is marketing lead generation?
Marketing lead generation is the process of finding a user who is not familiar with your business or brand (a cold prospect); engaging them and introducing your brand so that you can gather their details – usually their name, email address and phone number. There are many different ways that marketers do this. Here are three examples:
Google keyword search > Text ad on search engine results page > User clicks text ad > User views landing page with offer of a Free Guide > User provides name and email in exchange for free guide
Ad on Facebook newsfeed (known as Mobile App Install Ads) > User clicks to download the free app > User is taken directly to iTunes store > User downloads free app > User registers details on app
Mobile ad promoting competition > User clicks ad and lands on mobile landing page with a submission form > User completes competition entry
I'm sure you've experienced this type of thing at work. As you can see from these three examples the user is served some form of advert, then is given something of value in exchange for their details. It's really no more complicated than that. Over time, users get used to the freebies on offer and are less likely to give out their email addresses unless the thing on offer is especially relevant or useful for them. So that's where marketers have to get creative. Where once upon a time the freebie could be a basic PDF ebook, now it could be anything from tickets to a webinar, a physical book or product or even a money-can't-buy prize.
Understanding the marketing lead generation ecosystem
The infographic neatly shows you the various marketing platforms (large hexagons at the top) and marketing channels (next row of smaller hexagons) that we marketers use to drive traffic to our lead generation freebies (company website hexagon). Below that you can see the marketing lead generation mechanics such as landing pages, form submissions, web enquiries or call centres; and so from top to bottom, it maps out the various paths users may take from cold prospect to customer. This is known as the customer journey.
As you can see from a mere glance at the Internet Marketing Lead Generation Ecosystem infographic (below) all of the areas of marketing are connected. As we said earlier, having an appreciation of this — understanding how various parts of marketing fit together to generate sales leads — will make you far more valuable to potential employers.
For instance:
A copywriter who can adapt style and technique to search-engine-optimisation (SEO)-driven, email-driven and Pay-Per-Click (PPC)-driven content is more valuable and effective than one who has a one-size-fits-all technique. (See the second row of hexagons.)
Digital analysts who recognise the crucial importance of capturing form submissions and phone calls (see the hexagons below the COMPANY WEBSITE) will help their organisations develop a clearer understanding of their campaigns and how to improve them.
An ad planner (blue hexagon at top) who understands the importance of the user journey after the user has clicked on the ad is always more effective.
A digital marketing executive who works for a small business may well work across multiple channels such as Facebook, Google search Ads, search-engine-optimisation, email creation and blog writing.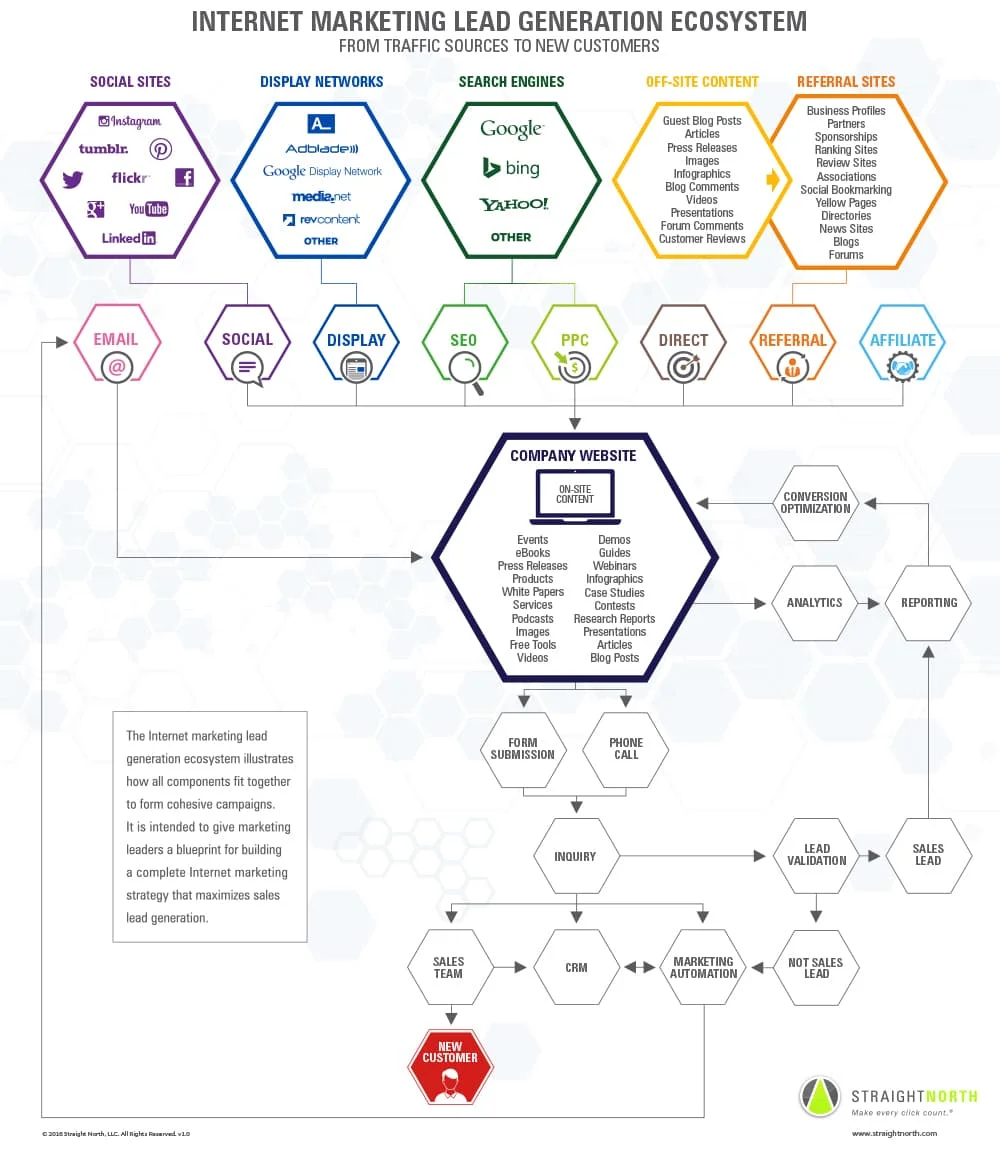 Infographic provided by Straight North, a Chicago SEO marketing company.